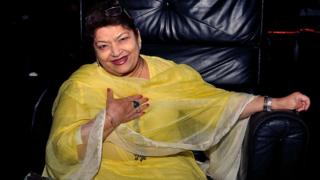 Saroj Khan, one of India's most prominent choreographers, has died at the age of 71.
Khan had an illustrious career that stretched four decades, and choreographed some of Bollywood's most iconic and popular songs.
Her career took off in the late 1980s, when she worked on a slew of hit numbers with leading stars like Madhuri Dixit and Sridevi.
Khan died of cardiac arrest in hospital in Mumbai city, local media reported.
She was admitted to hospital last month after she complained of breathlessness, Indian media reports said. She tested negative for Covid-19.
Her nephew, Manish Jagwani, confirmed to PTI news agency that Khan died of cardiac arrest.
Born in 1948, her introduction into the film industry was as a child artist. In the 1950s, Khan became a back-up dancer, appearing in films like Bimal Roy's Madhumati, where she was choreographed by dance director B Sohanlal, who she later married.
From here on, Khan's career evolved into that of an assistant choreographer until 1974, when she got her break in the movie Geeta Mera Naam.
In the 1980s, Khan became a recognisable name in the industry after she started working with Bollywood stars like Sridevi Kapoor and Madhuri Dixit, both of whom have danced to iconic Hindi film songs.
Khan choreographed Sridevi in the song Hawa Hawai from the 1987 blockbuster hit Mr India, kicking off her career as a dance director to be reckoned with.
Bollywood took to Twitter to mourn Khan's death, with many, such as superstar Akshay Kumar and director Kunal Kohli, thanking her for her work.
Her funeral was held on Friday morning in Mumbai, news agency PTI reported. She is survived by her son and daughter, Raju and Sukaina Khan.
'She made dance look easy'
By Geeta Pandey, BBC News, Delhi
Saroj Khan, popularly called Masterji (the teacher), got her first big hit in 1987 with the iconic Hawa Hawai song from Mr India.
When Bollywood superstar Sridevi shimmied onto the stage in a shiny gold dress with blood red lips and a gold crown perched over her dark curls, she conquered the hearts of audiences.
And with that, Khan became the most sought-after choreographer in Bollywood for several decades.
In the years thereafter, she turned Sridevi and Madhuri Dixit, two of Bollywood's biggest stars, into India's dancing queens.
In later years, she continued to work with several female stars such as Aishwarya Rai, Kajol and Urmila Matondkar.
She choreographed thousands of songs, created innumerable hits, won a dozen prestigious awards and had millions of fans in India and globally.
She appeared as a judge on some of the most popular reality TV dance shows and can be largely credited for the popularity of Bollywood-style of dancing in the West too.
Generations of Indians have grown up practicing Khan's steps in front of their television sets and mirrors.
In his tribute, Bollywood star Akshay Kumar said Saroj Khan made dance look easy. She did. She could make anyone dance even if they had two left feet.