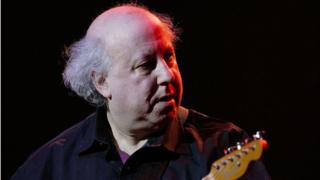 Fleetwood Mac co-founder and influential blues rock guitarist Peter Green has died aged 73.
Solicitors acting on behalf of his family said in a statement: "It is with great sadness that the family of Peter Green announce his death this weekend, peacefully in his sleep.
"A further statement will be provided in the coming days."
Green, from Bethnal Green in east London, formed Fleetwood Mac with drummer Mick Fleetwood in 1967.
They came together after Green's stint filling in for Eric Clapton in John Mayall's Bluesbreakers.
Green and Fleetwood then convinced John McVie to join the band as bass guitarist, in part by naming the band Fleetwood Mac.
Many of the band's much-loved early tracks such as Albatross, Black Magic Woman and Oh Well were written by Green and it was under his direction that they produced their first three albums.
The band's debut album was released in 1968. Simply called Fleetwood Mac, but also known as Peter Green's Fleetwood Mac, it gained widespread acclaim and reached number four in the charts.
Green left the band after a last performance in 1970 as he struggled with his mental health. He was eventually diagnosed with schizophrenia and spent time in hospital in the mid-70s.
Green was among the eight members of the band – along with Fleetwood, Stevie Nicks, Lindsey Buckingham, John McVie, Christine McVie, Danny Kirwan and Jeremy Spencer – who were inducted into the Rock & Roll Hall of Fame in 1998.
The news of his death comes days after Fleetwood Mac announced they would release a retrospective box set documenting the band's early years between 1969 and 1974.
'One of the greats'
Musicians have led tributes to Green, including Whitesnake's David Coverdale who said he was an artist he "truly loved and admired".
In a tweet, he said: "I supported the original Fleetwood Mac at Redcar Jazz Club when I was in a local band… he was a breathtaking singer, guitarist and composer. I know who I will be listening to today. RIP"
Mumford and Sons guitarist Winston Marshall tweeted: "RIP Peter Green. #GOAT. Man of the world, oh well, albatross, need your love so bad. Some of my favourites songs and performances of all time. Thank you for the music."
Actor David Morrissey praised Green's "fantastic soulful voice" while Black Sabbath's Geezer Butler described Green as "one of the greats". And Scottish musician Midge Ure tweeted: "One of the great ones gone. You taught me well."
In February this year, artists including Fleetwood, Pink Floyd's David Gilmour, ZZ Top's Billy Gibbons and guitarists Jonny Lang and Andy Fairweather Low performed at the London Palladium in a gig celebrating the early years of Fleetwood Mac.
Rolling Stone magazine ranked Green at number 58 in its all-time list of the 100 greatest guitarists, describing him as "Britain's most progressive blues guitarist" in his heyday.