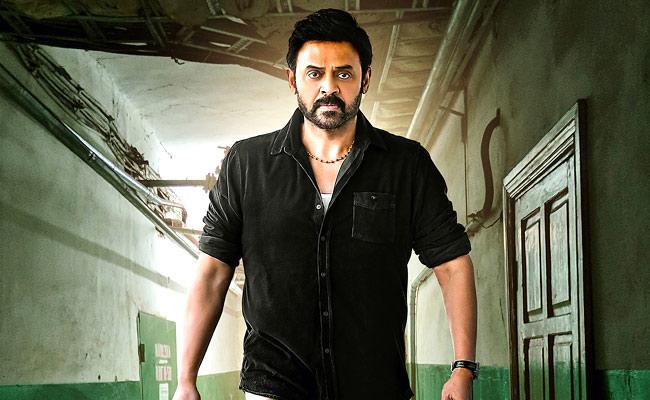 Movie: Drushyam 2
Rating: 2.75/5
Banner: Rajkumar Theaters, Suresh Productions 
Cast: Venkatesh, Meena, Kruthika, Sampath Raj, Nadiya, Naresh, Tanikella Bharani and others
Music: Anup Rubens
Editor: Marthand K Venkatesh
Director of Photography: Satheesh Kurup
Producers: Suresh Babu, Antony Perumbavoor, Rajkumar Sethupathi
Directed by: Jeethu Joseph
Release Date: November 25, 2021
Streaming: Amazon Prime
The sequel to critically-acclaimed and crowd-pleasing "Drushyam" is here. "Drushyam 2" starring Venkatesh and Meena went for a direct-OTT release.
The film is currently streaming on Amazon Prime Video.
Story:
Set in Rajavaram, the first part of "Drushyam" ends with Rambabu (Venkatesh) successfully covering up his crime and police failing to prove his crime. They could not find the body of police officer Geetha Prabhakar's (Nadiya) son.
Six years later, police are still trying to corner him in the case, and Rambabu is planning to produce a movie with the help of a famous writer Vinay Chandra (Tanikella Bharani).
The police officers led by Gowtham Sahu (Sampath Raj) have schemed a perfect plan to send Rambabu to jail. But Rambabu is smarter than the police.
What antidote does he have in his store this time?
Artistes' Performances:
Compared to the first part, the character of Rambabu mellows down. That also reflects in Venkatesh's performance. The senior actor does justice to the role. But the performance lacks the same intensity that he had shown in the first part.
Meena gets more screen time in this sequel and she plays the worried housewife's role perfectly.
Among other characters, Nadiya scores as well. Tanikella Bharani as a writer is okay. 
Technical Excellence:
It was shot during the second wave of coronavirus. Despite constraints, cinematographer Satheesh Kurup has filmed it well, giving adequate quality.
The pace of the film is deliberately slow. R Samala's dialogues are neat. Anup Ruben's music lacks the effect. 
Highlights:
Story
Interval twist
Final suspense element
Drawback:
Slow pace
Contrived at some moments 
Analysis
Venkatesh starrer "Drushyam 2" is a strange film. Okay, we are not talking about its content. Have a look at these facts before reading the review.
The film is a sequel to "Drushyam" (2014). Plus, this is also a remake of the Malayalam film. Moreover, the original Malayalam version starring Mohanlal was also premiered directly on Amazon Prime Video early this year, and it was one of the most widely watched Indian movies on digital space. Still, the same director remade it in Telugu and the movie is now premiering on the same platform.
Having watched the Malayalam original, the comparisons come to mind naturally. To put in a simple sentence – "Drushyam 2" is a Xerox copy of "Drishyam 2" (Malayalam), except for a couple of minor changes.
For those who have already watched the Malayalam version, this film doesn't give much high. However, if we stop comparisons, Venkatesh's "Drushyam 2" can be called a decent thriller.
Director Jeethu Joseph has come up with a strong story and screenplay for part two as well. A clever mix of the developments of the first part and the new schemes of Rambabu to save his family work well. The suspense element is kept alive here.
The film begins on a dull note and goes on with family situations for nearly 40 minutes. As the boredom begins to creep in, Jeethu Joseph cleverly pulls the rug and introduces a big twist in the story right at the interval bang. 
The entire second half put us in guessing mode how would Rambabu save his family. In the first part, Venkatesh was shown as a film buff and cable operator. Here, he is a theater owner and a wannabe producer. In both parts, Rambabu's 'storytelling' techniques play a key factor in protecting his family.
Writer and director Jeeth Joesph's biggest strength is mixing 'filmmaking knowledge' of the protagonist to narrate this story. With the final trick that Rambabu pulls out, the audiences will be mesmerized. Such is Jeethu's narrative in the later portions.
However, the second part doesn't have the same emotional core as the first part – saving his daughter. This is more about outsmarting the police though some parts are contrived, especially with the forensic episode. 
Having said that, "Drushyam 2" is a gripping family drama if you have not watched the Malayalam version. Even if you have seen it, the Telugu version makes a decent watch. 
Bottom-line: A Good OTT Watch
Click Here for Latest Direct-to-OTT Releases (List Updates Daily)
<!– Go to www.addthis.com/dashboard to customize your tools
–>